On the stage of the North American Tamil Sangha Council's Muthamil Festival
Back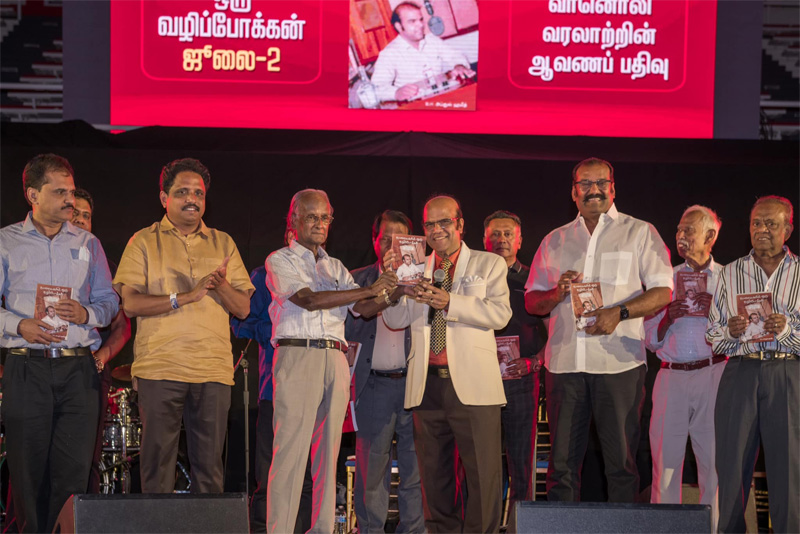 I share with you the joy of the publication of Adiye's book on the stage of the North American Tamil Sangha Council's Muthamil Festival...
North Merikath Tamil Sangha Council President Mr. Caldwell Welnambi presided over the launch ceremony in the presence of scholars, renowned entrepreneurs, and patrons. This year, poet Erode Tamilanban, winner of the North American Tamil Sangha Council's 'World Peeta Award', released the first copy of his book.
Another copy was made by Napoleon, an actor and now a leading entrepreneur on American soil. In this ceremony, the writer who won the 'Sahitya Akademi Award' for the book 'Kavalkottam' in 2011 and who is a Member of Parliament for Madurai Constituency in the Government of India, Mr. Su Venkatesan also attended as a special guest. Also actor and director Mr. Pandiyarajan, founder of Vellore Institute of Technology, Vice-Chancellor, former Member of Parliament and Legislative Assembly, Mr. Ko. Viswanathan, who has been elected as the new president of North American Tamil Association Bala Swaminathan, and many leading American and Canadian entrepreneurs were present. (Heartfelt thanks to our local brother Ranjith Subramaniam who recorded and sent these images) This book will be released on the 12th of August on Canadian soil in Toronto under the arrangement of Canadian Tamil Osai Radio and Cine Media.

Also, under the arrangement of the 'World Tamil Art Gallery', it will be released on the 8th of October at the famous 'Winston Church' hall in the city of London.