Welcome To
Tamil Oli Kalanjiyam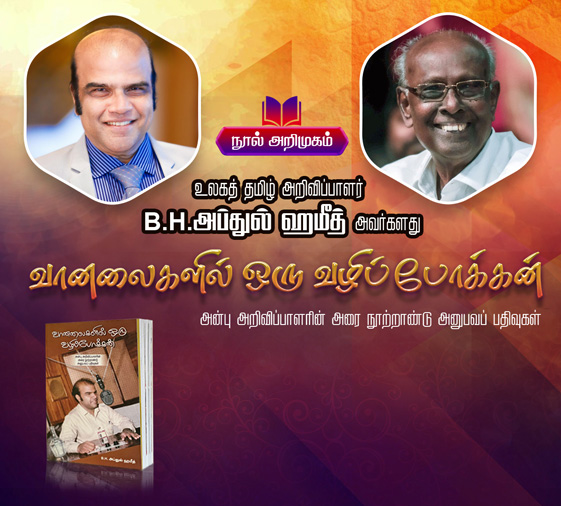 My journey on the 'AIR' thus far...
The journey began at the tender age of eleven. More out of curiosity rather than with any intention of participating in any programme I accompanied my young friend Joseph Edward to the erstwhile Radio Ceylon. It so happened the boy who was supposed to play the role 'demon' in the serial drama "Patchai Malai Theevu" was absent. The search for a replacement led to an 'audition' among those present and the result was in favour of 'LUCKY ME' ! The Prince who 'abducted' the throne was later to become one of my best-ever friend 'Maricar' Ramadas.
The 'Radio Uncles' who succeeded each other namely Messrs.S.Nadarajan, Karunai Ratnam, Haji V.A.Gaffoor and Saravanamuthu played vital roles in shaping my career. The 'Radio Akka' Mrs.Ponmani Kulasingham who later became the Director of Tamil Services played no lesser role in the development of my career even after I became a full-fledged Announcer.
Still an adoloscent the next rung in the ladder was Youth Forum. 'Vaanoli Anna' Rasiah was a real source of strength. He was the embodiment of Literature. His guidance at such an young age helped me to qualify as an Auditioned Artiste in the drama section of the National, Educational and Muslim services.The self-esteem that derives from self-earning is a 'feel-good-factor' elated me to dizzy heights.
Selection process was about to begin for Announcers post. It was a distant dream and I had my own doubt about my capability to handle such a 'glamorous' job by the standard of yester-years. It was the Senior Producer V.A.Sivagnanam who encouraged me and my colleague Nataraja Sivam to go for it to the extent of filling the application form. He who fore-saw the potential the future held for us.
The selectors only heard our voice during the preli - minary round would have expected some mature young men in their mid-thirties but were taken back when they saw a shorts-clad young boy appearing before them for Interview. Still they subjected us to the regular routine and rigour of General Knowledge, translation test etc., and I became the youngest announcer in the annals of Radio Ceylon, now Sri Lanka Broadcasting Corporation.
Though quite young I felt quite at ease working along with stalwarts like S.K.Para-Rajasingam and Mylvaganam, the latter particularly un-mindful of the generation gap was very generous towards me. These two are supposed to be heart and soul of Tamil Commercial Service.
It was not my idea to be a 'run-of-the-mill' prog. Announcers following the stereo-type routine. I longed to get out of the beaten track and desired to go deep into the subject and master the nuances of the art of broadcasting and it was the Controller of Muslim Prog. Mr.M.H.Kudhoos who set the stage for this. In those days Muslim dramas of Radio Ceylon crossed all barriers and proved to be a run-away success even among non- Muslim brethrens. It is not to belittle the late Mr. Kudhoos that I say that I produced hundreds of plays under his name but only to emphasize the utmost confidence he reposed on me. This prompted the Director of Tamil Services Mrs.Ponmani Kulasingham to entrust the job of producing the prestigeous One-hour monthly play in the Tamil National Service, on a regular basis.Some of the productions proved to be 'mile-stones' in the history of Radio Ceylon Tamil dramas.
Sillayoor Selvarajan's Tamil version Shakespear's 'Romeo & Juliet' which was later published in book form as well.

Kavignar Ambi's "YAAL-PAADI" drama in poem which was later released in CD form.

The immortal comedy show "KOMAALIGAL" written by Ramdas, produced by me and presented by Sillayoor. This was later produced into a full-length cine-film. For the first time a radio serial play was made into a cine-film. The unique feature of this drama and film is Ramdas who is a Brahmin by birth, played the role of a Sri Lankan Muslim and me the VICE VERSA.

For World Family Planning Organisation I produced an one year long serial called "Oru Veedu Koyilagirathu" (A HOME TURNS TEMPLE) This play had the distinction of having Chavalier Nadigar Thilakam Sivagi Ganesan as a regular listener. I played the role of Capt. Sambasivam and when I met that great Thespian for the first time, he addressed me by that character name of Capt.Sambasivam.

On an experiment basis I produced a drama "Anicha Malargal" by Ashroff Khan. The uniqueness about this is it featured South Indian cine-stars Gemini Ganesh, Sri Vidhya, ISR and some of the leading Sri Lankan artistes. They never met each other for this play. Version of each artiste was recorded seperately at different venues and at different times and then clubbed together by a clever piece of editing.

"Chakkarangal" (Wheels) was a play with train journey as its back-ground. This was recorded 'on-location' with actual back-ground and proved to be unique

"Kiramatthu Kanavugal" a weekly Radio play Produced by me and written by Mr.K.S.Balachandran, now living in Canada, and they had the distinction of being broadcast over several radio stations through-out the world. This play was later released as audio-cassettes. (These cassettes were inspiration for Kalaignar Kamal Hasan to speak the Jaffna Tamil dialect in the film "Tenali").
Radio Magazines :
"Oli-Manjari" was instrumental in popularising several budding youngsters in the field of literature. Many as writers and poets gained their popularity through this prog.
"Vaanoli Malar" The contribution it made in creating several cine-writers and lyricists is too many to be counted in this page.
"Isaiyum Kathaiyum" (Song & Story) A unique combination of story telling using cine-songs to back-up. It provided lot of scope for 'mono-acting' hence it was a super-duper hit in listener 'rating'. I'am still a sweet dream in the memory of several listeners.
Musical shows-The Indelible epochs - Impressions & impacts :
The cine songs and the devotional light music ruled the roost in Sri Lanka . The late S.K.Para-rajasingam mooted the idea of having our own version of light music and my association with him in this regard was a very rewarding and useful partnership. The next step was Sri Lankan Tamil 'pop-songs'. It was hither to an unheard phenominon in Tamil music. It was the venerable veteran of Tamil broadcating Vivian Namasivayam who very aptly named it as 'Eeelatthu Pop Isai'. For the next ten years it held the sway over Tamil cine-music and in a devastating spell of popularity swept everything before it. It also catapaulted many local heroes and heroines, who also did very well on the monetary side as well with decent income. The man of many faces and the literateur par excellence Sillayoor Selvarasan also became a partand parcel of this scenario with his own lovely lyrics and the lilting mellow voice.
"Isaikolam"(Magic of Music) was another weekly programme which brought out the budding young talents available in Sri Lanka in ample measure.
"Oliparappiley Oru Naal" On a given day what happens in a radio station and how people go about their in producing many apopular programme which captures the imagination of the listening public.It was roaring success. As enlightened as they were. They also became all the more wiser, which made our job all the more easier.
"Meenava Nanban" (Friend of fisherman) : Their loves, lives and longings - a vivid picturisation in words. It touched every aspect of fisher-folks. On the spot recording and even venturing into the sea if occasion so demanded added not only authenticity to this dare-devil venture but also un-interrupted run of three long years of this programme also vouched for its success and popularity and it brought kudos not only to me but also the entire team who worked with me.
Kramathin Idhayam : (Heart of a hamlet) – Yet another programme which took me to every nook and corner of South India, particularly Villages in TamilNadu. Folk-art, music and dance hither to un-fathomed found the day-light. Presented in a unique magazine form, three years flew like no time. Felt happy because I was able to do my bit. Felt sad because it has to come to an end and felt bad because still many an area lie un-heard,un-cared and atrociously neglected by the powers that be.This was broadcast in our South Indian beam hence became all the more popular.
Vetri-Paathai : (Way to success) Even after ten years on the air it is still a craze with listeners because 'motivation, is the main theme of this programme. Who will not want to succeed and who will not to want tolearn ways and means for that if it is presented on a silver platter - sugar-coated as well !!!
Game Shows :
A hilarious show in which every participant has to answer a to some questions not with 'yes' or 'no' and not with single words and not repeating the earlier answers made. Even the cleverest of the clever tumble to the delight of the audience. It was a jolly good show which ran for years and later became the fore-runner for many a television programmes on their advent.
"Thenisai Mazhai" Even common folks were made to sing cine-songs to the accompaniment of music which brought to light the wealth of talent available.
"Eazhu Kelvikal" (General knowledge questions) It was information combined with entertainment which gave birth to new a word in English language "Infotainment"
"Pattuku Paattu" The mother of all "anthakshri" programmes beamed in many channels through-out the world. Its origin was not Hindi as claimed by many, but on the contrary it was the product of Radio Ceylon Tamil Service, and more particularly my own 'brain-child'. Its longevity touching thirty two years, perhaps, a Guinness record of sorts.
Stage Drama Experience :
As an actor - During school days -Katta-bomman, Karnan, Jansi Rani etc., Later in the "Komaaligalin Kummalam" as a Brahmin music teacher, Tamil Pandit and Muradan Veeramuthu went on several stages at home and abroad.
As a producer - Several dramas and worth mentioning are "sumathi" and "Broker Kandiah"
As a Director -"Raja-dhrohi" (Historical play) "Anaarkali" with an all women caste. "Veenai-kodiyon" (staged in Veera-singham Hall in Jaffna in connection with World Tamil Conference. This too had an all women caste.
"Mana Thirai" - A very serious play dealt with Ethnic problem. This was staged in a Drama Festival organised by SriLanka Broadcasting Corporation. Having the "in-thing" as the main theme, this drama became a roaring success.
Cine Experiences :
Komaaligal a lovable Brahmin character who became the darling of the audience.
Nangu Latcham Did the script and dubbing in colloboration with Ramdass.
Yaar Aval Dubbing.
Tenali Not only wrote the Jaffna Tamil dialect for Badhmashri KamalHassan, but also had the pleasure of training the great Kamal in the nuances of that language. But director Ravikumar felt that the language must be in such away it could be easily understood by anyone and everyone in Tamil Nadu. That was the voice of sound common sense as well as commercial sense. So that was an ad-mixture of Jaffna and cinema Tamil. However Kamal insisted that I must write the dialogue of the portion where in he recalls the sorrowful experience of his characters childhood. Because of the polotical conditions prevailing back home at that time I requested to desist from mentioning my name anywhere. But Director K.S.Ravikumar, as generous as he was, gave me a proud and prominent place in the Title Card, not to mention a small role I was given the privilege to play in. The crowning jewel of this, however, was the un-believeable depth of unique characterisation of the role played by the ever-green Kamal, who brought out all the facets and besides himself he also made all the audience to weep unmindful of the sorrounding they were in. What was also breath-taking was he did this core in one single glorious "TAKE" as they call it in cine parlance. Hats-off to Kamal. A great friend whose love & affection I cherish deep in my heart.
Training Courses : 1985 - Six Months training at Radio netherlands Training Center - Hollend
1995 Participitated at the workshop - "Relevence of the Media in Connection with adolescence" - in Benin, West Africa.